April 10, 2017
After the success of last year's Record Store Day Exclusive, Genesis Of The Daleks, Demon Records are proud to present the 2017 Vinyl Reissue of Doctor Who & The Pescatons on 180g heavy weight Pescaton Green coloured vinyl.
The story was originally released on LP and cassette in 1976 and features the voices of Tom Baker and Elisabeth Sladen, who play the Fourth Doctor and Sarah Jane Smith respectively. Doctor Who & The Pescatons was written by Victor Pemberton, author of Second Doctor adventure, Fury from the Deep (the story which introduced the Sonic Screwdriver).
As an added bonus the gatefold release comes backed with Doctor Who: Sound Effects on Orange vinyl. This title was originally released in 1978 and features iconic sounds and effects from the 'classic' era.
With the original artwork for each release back to back this is a must for any Doctor Who fan. Here's what you will find on this unique double album:
Side A: Doctor Who And The Pescatons Part 1
Side B: Doctor Who And The Pescatons Part 2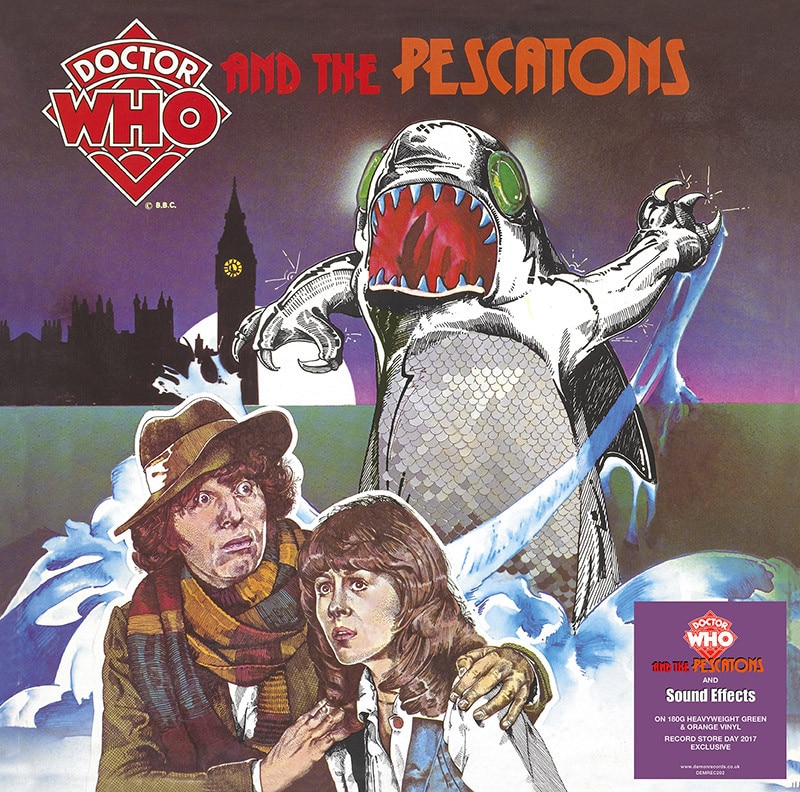 Side C: Doctor Who Sound Effects
The Central Control Room In Exillon City
The Dalek Control Room
Metebelis III Atmosphere
Styre's Scouting Machine
Dalek Hatching Tanks On Skaros
Zygon Spaceship Control Centre
Sutekh Time Tunnel
The Interior Of Xoanon
Side D: Doctor Who Sound Effects
The Shrine Of The Sisterhood Of Karn
Kraal Disorientation Chamber
The ManDoctoragora Helix
Atomic Reactor Runs Wild
Wind-Mine Machine
Distillation Chamber
Cloning And Minituarisation Process
Inside Doctor. Who's Mind
TARDIS Interior (In Flight)
TARDIS Interior (Stationary)
Observation Screen Operates
TARDIS Door Opens
Sonic ScrewDoctoriver
Fission Gun
Tesh Gun
Gallifreyan Staser Gun
Vardan Gun
Doctor Who And The Pescatons / Sound Effects will be available on Record Store Day only - April 22, 2017.