January 09, 2020
Ever wondered what a day is like on set with Jodie Whittaker and the fam? Bradley Walsh tells Doctor Who Magazine how the gang hang out.
Doctor Who Magazine #547 is on sale now.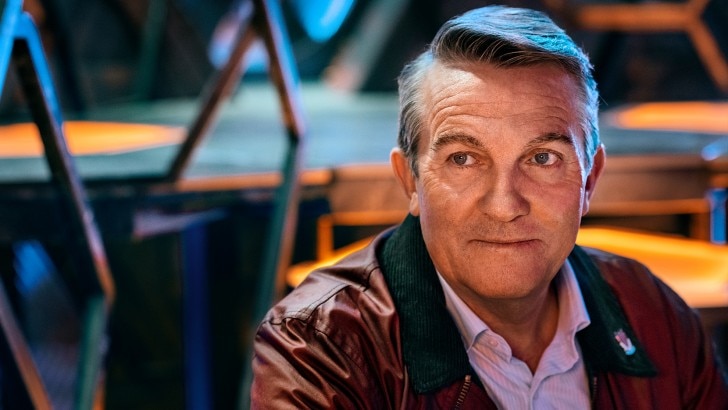 Doctor Who Magazine had an in-depth chat with Bradley Walsh, covering his career so far, Series 12 and much more. You can read an extract of what it's like working with the cast of the new series here:
"You want to have fun and you don't want to have a miserable day at work. I mean, Jodie's brilliant, Tosin's fantastic and Mandip's great. I'll tell you, we're really good here. And Jodie won't just get on for getting on's sake. She has her opinions, and rightly so – everyone should have. She's brilliant, absolutely brilliant. I adore working with her.
They all call me Dad, which I love actually. I'm coming up for my 60th birthday soon, so I love the fact they call me Dad."
How cute! You can read the full story in the new issue of Doctor Who Magazine (#547).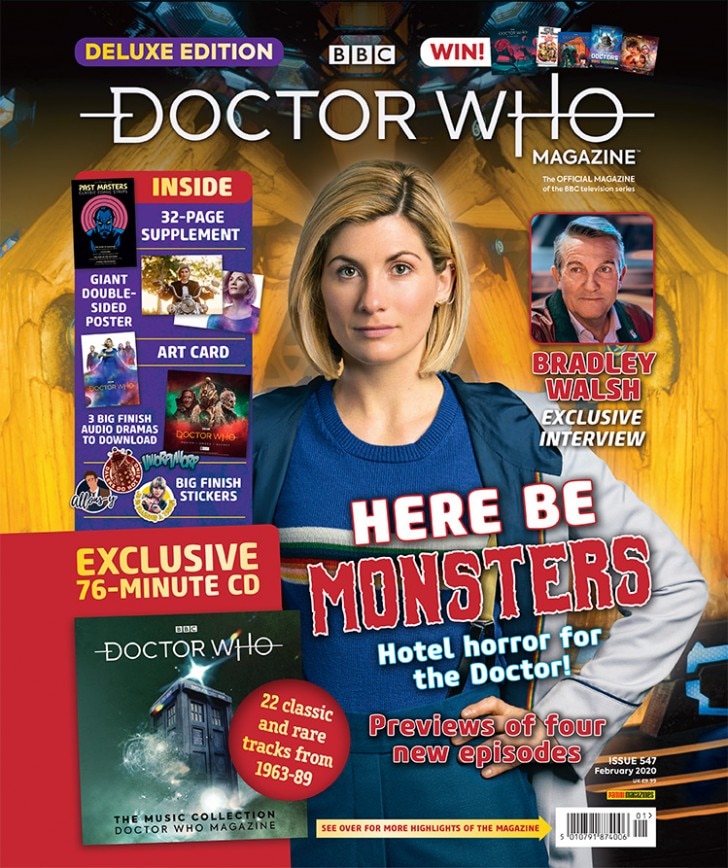 The latest issue of Doctor Who Magazine (#547) also includes:
The second part of an exclusive, in-depth interview with showrunner Chris Chibnall.
Interviews with the new writers of Series 12.
Exclusive previews of the next four episodes.
The untold story of Denis Alan Print, the Doctor Who merchandise company co-owned by Tom Baker.
Doctor Who's top ten Master reveals.
The Fact of Fiction begins an epic exploration of The Daleks' Master Plan.
Part Five of Mistress of Chaos, a new comic-strip adventure featuring the Thirteenth Doctor and her friends.
Reviews of the Season 26 Blu-ray box set and the new vinyl edition of The Web Planet.
Doctor Who Magazine #547 is also available as a strictly limited Deluxe Edition (pictures above), exclusive to WH Smith and store.panini.co.uk, priced at £9.99. In addition to the latest issue of Doctor Who Magazine, the Deluxe Edition includes:
An exclusive 76-minute music CD, featuring 22 classic and rare tracks from 1963 to 1989.
A 32-page supplement, comprising of classic comic-strip stories featuring the Master.
A giant double-sided poster.
A Series 12 art card.
Three Big Finish audio dramas to download, plus Big Finish stickers
Also The 2020 Yearbook from Doctor Who Magazine is also out now, packed with all-new exclusive features and interviews…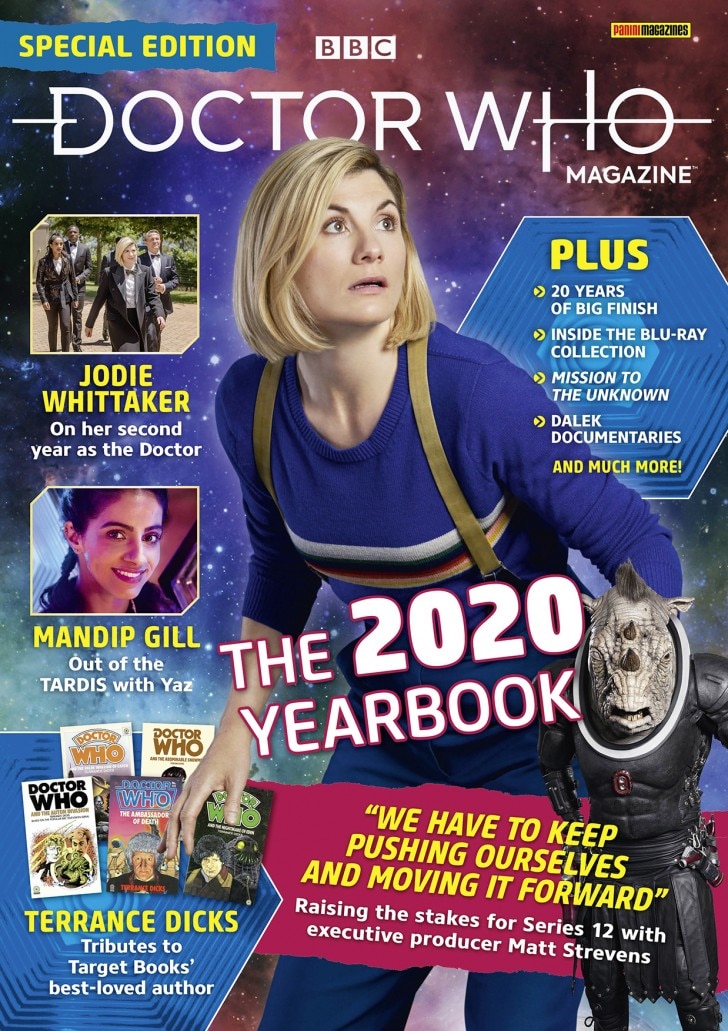 Highlights include:
An in-depth interview with Doctor Who's executive producer Matt Strevens.
Jodie Whittaker on her second year as the Doctor.
Mandip Gill, aka Yaz, answers questions from the TARDIS tin.
Shaun Dooley and Jodie Whittaker recall the making of the charity album Got it Covered.
Terrance Dicks' widow, Elsa, and his former Target Books editor, Brenda Gardner, pay tribute to the much-loved writer.
Twenty years since its original broadcast, Steven Moffat remembers The Curse of Fatal Death.
Highlights of the Series 12 press day.
Inside the popular YouTube series Terry Nation Army.
Digital artist Sophie Cowdrey discusses her work.
The past, present and future of the Doctor Who Blu-ray collection.
Behind the scenes of the Doctor Who Figurine Collection.
The 20 landmark Doctor Who audio releases from Big Finish.
A look back at the 2019 production of Mission to the Unknown.
Reviews of the final two Doctor Who: Infinity games.
Tributes to Doctor Who luminaries who passed away in 2019.
Doctor Who Magazine #547 is on sale now, priced at £5.99. The deluxe edition is also available at selected retailers, priced at £9.99. The Doctor Who 2020 Yearbook is also out now, priced at £6.99.