November 30, 2020
Doctor Who returns on New Year's Day in the upcoming special Revolution of the Daleks, and this adventure will be the last for Bradley Walsh and Tosin Cole, who played Graham O'Brien and Ryan Sinclair.
In an interview below, they talk more about the Daleks' return, the Doctor locked away with the stakes higher than ever, and some emotional goodbyes.
Get ready for the festive special Revolution of the Daleks, coming to BBC One and BBC America on New Year's Day.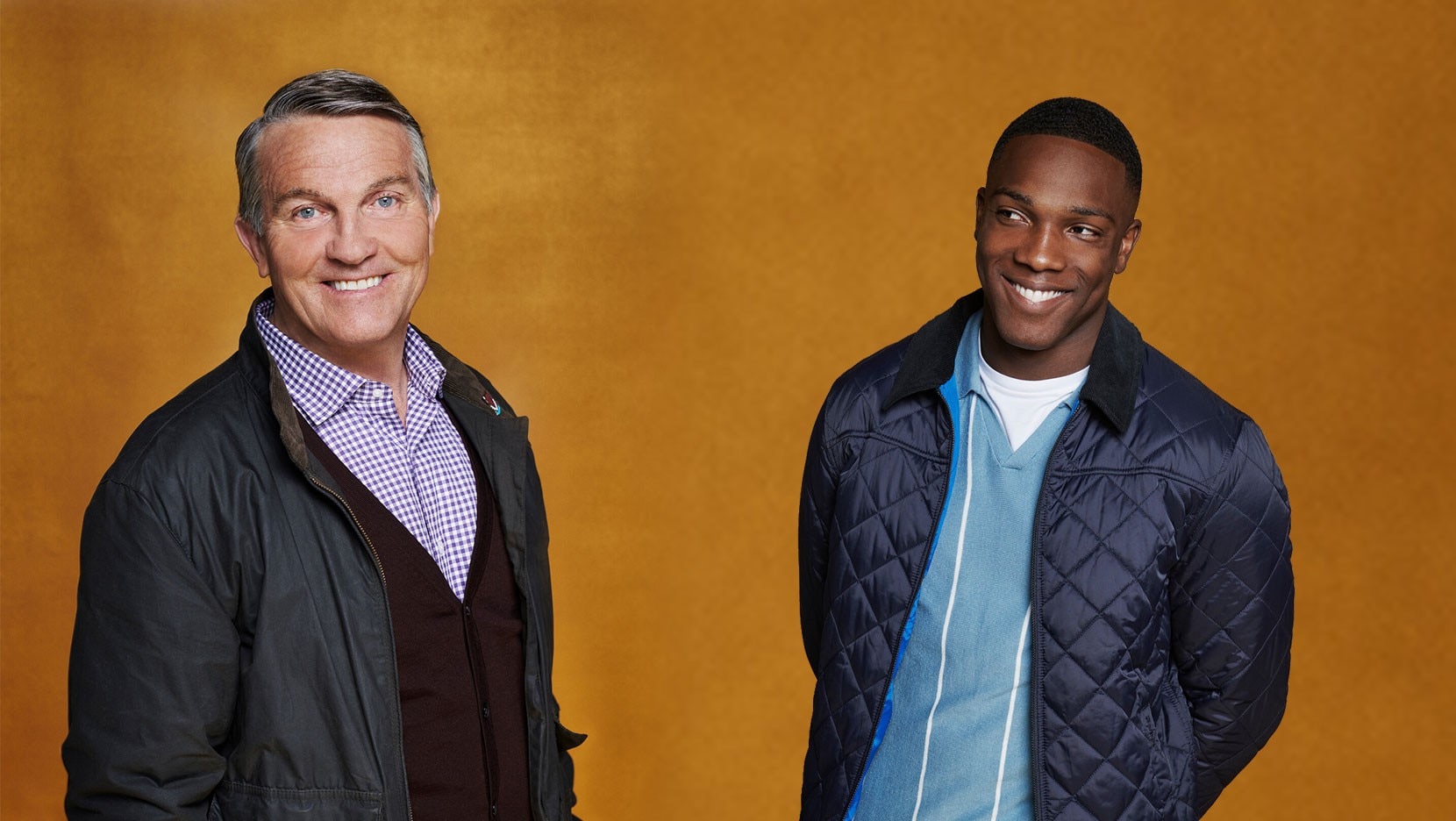 What can viewers expect from the festive special?
Bradley Walsh: You can expect old enemies, spectacular scenes, a surprising ending and a heart- warming story.
Graham, Ryan and Yaz are stuck on earth without the Doctor, how are they getting on?
Tosin Cole: Yes, Ryan is OK without the Doctor. He has learnt a lot from his time with the crew and is now more confident and self-sufficient than ever.
Bradley: They are very annoyed, I think they are more annoyed as they feel like they have been abandoned. I don't think they realise what predicament the Doctor has been in and I think they are more annoyed and a bit upset that they have been sort of left alone. I think what is happening as well is that they are becoming slightly more accustomed to their surroundings being back on earth.
We see 'the fam' go up against the Daleks in the festive special, what's it like working with such an iconic monster?
Bradley: For me it was amazing. I loved it, you can say you have taken on a Dalek, you are only one of a few people on the planet, on our real planet, that has done that and has worked with them so I am very honoured and privileged to be part of that.
Tosin: Working with the Daleks is sort of like working with Doctor Who royalty. You have to respect them because they are so iconic.
Do you have a highlight from filming the episode?
Bradley: There are some very moving movements in the show and working with Jodie, Mandip and Tosin is a dream come true. They are all so, so talented people and all the crew too. For me it was very emotional.
You've got to work with some really iconic monsters, do you have a favourite?
Tosin: Hmm I would say Weeping Angels, but never had the pleasure of working with them. So I would have to say the Dregs as they really shook me up whilst we were filming.
Captain Jack is also back. What was it like working with John Barrowman?
Bradley: He makes me laugh a lot. He is a breath of fresh air. Funny guy and a great actor and far too handsome for his own good!
This is yours and Tosin's last episode, can viewers expect lots of drama?
Bradley: It is very, very dramatic. It is very sad. It is quite sad and poignant is the word. You can expect a lot of poignancy from the episode.
Without giving anything away, what was your final scene like?
Tosin: Emotional! I was looking forward to having a rest though!
What's been your highlight about being on Doctor Who?
Bradley: Working in Wales with everyone on the crew. I have absolutely loved it, loved it. Wales has become like a second home to me and being included in something so iconic and ground-breaking with the advent of having a female Doctor, that whole thing where Chibnall sold that to me, it didn't disappoint, and I loved working with those guys.
I love working with Chris Chibnall, that man is a genius but to also be working with Mandip and Tosin and of course Jodie is just extraordinary.
What are you going to miss the most?
Tosin: There are too many things to list here, but it has to be the team on the screen and behind it as well as the amazing fans. It's been an honour to work on such a cultural institution with fans across the world. The people like me on the screen come and go, but it's the people behind the scenes and the fans that will always be there keeping the Doctor Who world alive and exciting.
Bradley: Everyone and everything. We are now in constant contact, texting, Whatsapping. I miss them all. I was texting the location guys across the airwaves. Happy days. Fantastic memories. Our times abroad, when we were in Spain, South Africa. I just loved it.
And Jodie Whittaker spoke on Bradley and Tosin's departure:
"On a personal note, absolutely devasted! Both of them had to carry me to my trailer, I haven't cried like that for such a long time. Brad couldn't cope with it at all! Tosin was like 'I really can't cope with you getting this upset'."

 
Get ready for the festive special Revolution of the Daleks, coming to BBC One and BBC America on New Year's Day.