August 13, 2018
In 2019, Big Finish will celebrate 20 years of creating Doctor Who stories on audio with a huge audio crossover event, The Legacy of Time; six one hour-long stories which will see characters from the entire history of Doctor Who crossing paths – some for the very first time.
Professor River Song (Alex Kingston) meets her predecessor, another time-travelling archaeologist, Professor Bernice Summerfield (Lisa Bowerman). Kate Stewart (Jemma Redgrave) travels back in time to classic UNIT and meets the Third Doctor (voiced by Tim Treloar) and Jo Grant (Katy Manning).
Also, the Counter-Measures team from 1988's Remembrance of the Daleks, will be reunited with the Seventh Doctor (Sylvester McCoy) and Ace (Sophie Aldred). And the Sixth Doctor (Colin Baker) and his companion Charlotte Pollard (India Fisher) once again meet Detective Inspector Patricia Menzies (Anna Hope) in a police procedural like no other!
Plus we go to Gallifrey, and elsewhere we enter the Time War. Doctors will meet, and there will be Easter Eggs aplenty.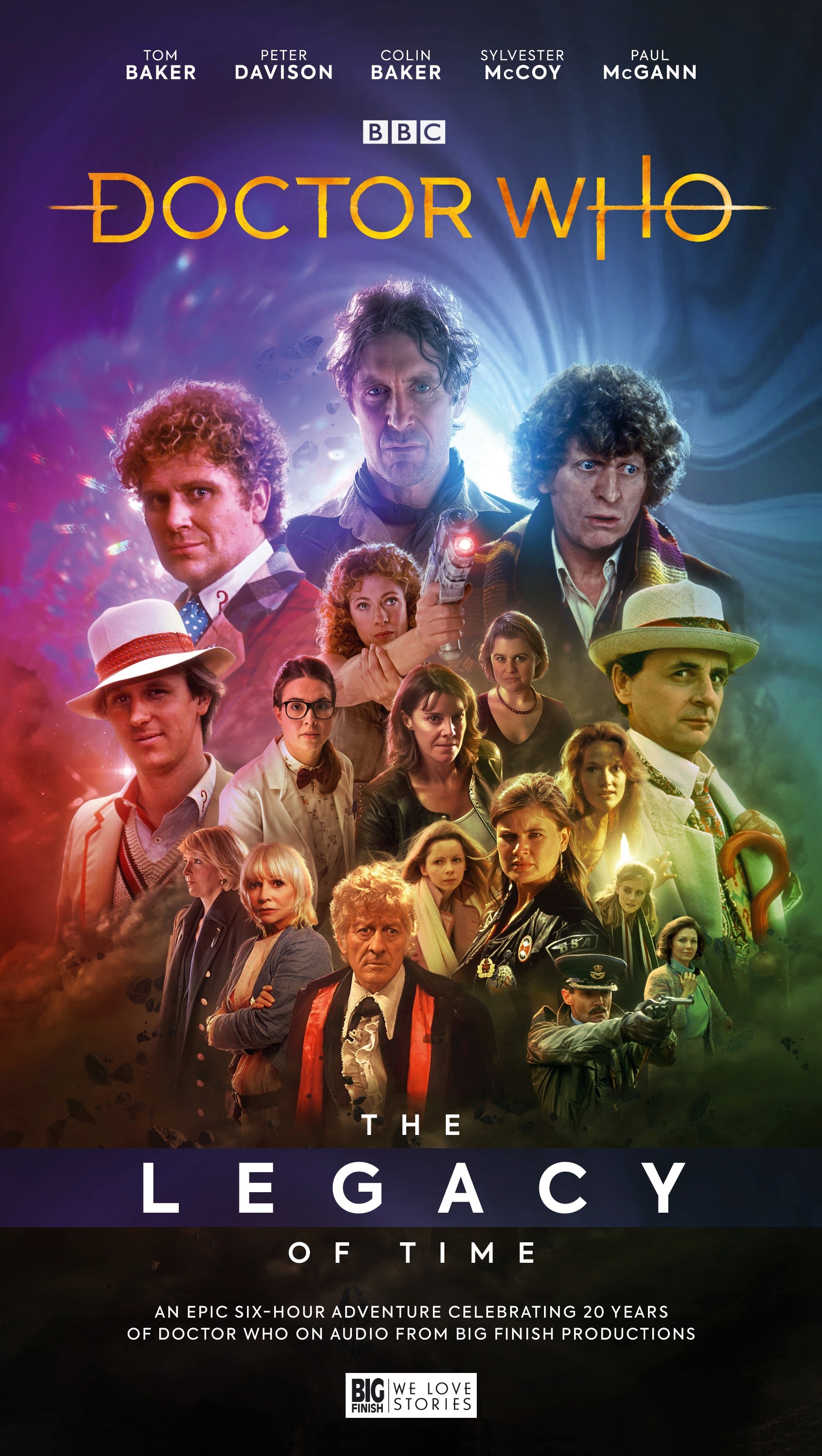 The Legacy of Time includes six stories:
1. Lies in Ruins by James Goss
2. The Split Infinitive by John Dorney
3. The Sacrifice of Jo Grant by Guy Adams
4. Episode four by Matt Fitton (title to be confirmed)
5. The Avenues of Possibility by Jonny Morris
6. Collision Course by Guy Adams
Synopsis:
Time is collapsing. Incidents of temporal chaos and devastation are appearing throughout the many lives of the Doctor and his friends – fallout from one terrible disaster. The Doctor must save history itself – and he will need all the help he can get. The truth is revealed, and it will take more than one Doctor to save the day!
The cast of The Legacy of Time includes:
Tom Baker, Peter Davison, Colin Baker, Paul McGann, Sylvester McCoy, Alex Kingston, Lisa Bowerman, Sophie Aldred, Simon Williams, Pamela Salem, Karen Gledhill, Hugh Ross, Tim Treloar, Katy Manning, Jemma Redgrave, Ingrid Oliver, India Fisher, Anna Hope, Lalla Ward and Louise Jameson.
Executive Producer and one of the founding members of Big Finish, Nicholas Briggs told us about this exciting new release:
"The Legacy of Time will probably go down in Big Finish history as our biggest, most exciting production, ever! Celebrating 20 years of Doctor Who at Big Finish, it expertly pulls together all the strands from our many and varied Doctor Who ranges.
This is down to the brilliance of script editor Matt Fitton and producer David Richardson. They epitomise the creative strength, organisational expertise and leadership of the company. Quite simply, this is going to blow people's minds! It's got everything!"
"How do you celebrate 20 years of Doctor Who at Big Finish?" questions the producer assigned this epic task, David Richardson:
"How do you celebrate something that has meant so much to all of us who work here – the friendships, the freedom to be creative, the glory that is Doctor Who itself? That was the challenge facing myself and Matt Fitton, but once I'd had an idea for what this six-hour epic would be about (spoilers!) it was then relatively easy to start assembling the huge team of characters and actors who would take us on the journey.
The Legacy of Time is quite possibly the biggest Doctor Who story we have ever told at Big Finish. It's been so hugely satisfying to make – I hope everyone finds it just as satisfying to listen to!"*
Chairman and Executive producer of Big Finish, Jason Haigh-Ellery added:
"In July 1999 we released The Sirens of Time. In July 2019 we're releasing The Legacy of Time. Those two decades have been so fulfilling for us at Big Finish - a chance to work with so many great and talented actors, writers, productions crews and all of our friends at the BBC. This is a celebration of it all, with lots of surprise returns and references. Think of it as one massive Doctor Who party - and everyone is invited…"
Doctor Who: The Legacy of Time will be available from Big Finish on download and, as one of the last audio producers and distributors still making CDs, released in an eight-disc CD set with a limited edition of just 4,000.