August 14, 2013
Big Finish Productions' multi-Doctor 50th anniversary audio adventure – The Light at the End – will be released on a limited edition vinyl, doctorwho.tv can exclusively reveal.
Available to pre-order now, and released in November, 500 numbered copies of The Light at the End will be pressed in heavy 180g vinyl. The four-disc set, containing the adventure and a making of documentary, will be presented in a beautiful four-way gatefold sleeve, with rigid slipcase and an exclusive 30cm x 30cm lenticular image, shown below:
You can order The Light at the End: Limited Edition Vinyl from bigfinish.com for an special pre-order reduction of £99.99 (RRP £129.99)
The Light at the End unites the Fourth, Fifth, Sixth, Seventh and Eighth Doctors to solve a threat to time, space and, almost as importantly, his very existence! Only one person could be this malevolent: the Master. But will he finally succeed in wiping the Doctor – all the Doctors – from the face of the universe?
Starring Tom Baker, Peter Davison, Colin Baker, Sylvester McCoy and Paul McGann, together for the first time on audio, the Doctors and their companions Leela, Nyssa, Peri, Ace and Charley try to unravel a deadly mystery. With shocks, surprises and a host of cameos, it's a huge celebration of 50 years of Doctor Who and a great collector's item.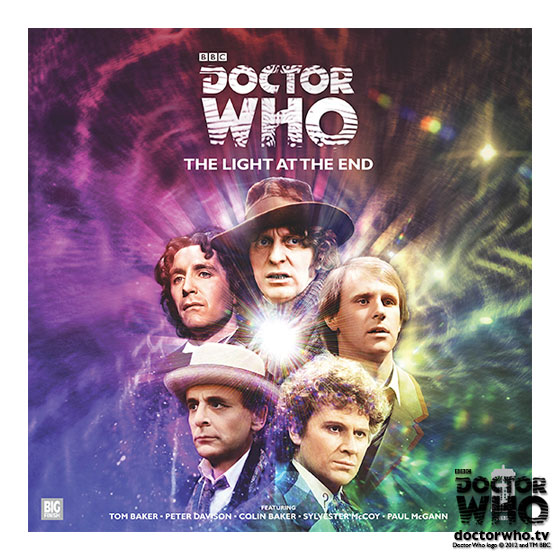 This special adventure is also available as a standard two-CD release, or a special edition CD set containing additional documentary material and brand new story The Revenants, starring original series star William Russell once more as Ian Chesterton.
Listen to a trailer for The Light at the End: