November 02, 2017
Doctor Who fans in Australia will be able to get their first look at the newly-reconstructed version of Fourth Doctor story Shada on the big screen.
As we revealed last month, the 1979 story written by Douglas Adams will be made available to fans on DVD, bluray and download – full details and artwork
BBC Worldwide ANZ and Sharmill Films have announced a limited-run theatrical screening of the completed adventure which combines original live-action footage with hand-drawn animation.
Shada will premiere in cinemas on 24 November, 2017, the day after Doctor Who's 54th birthday!
Information on participating cinemas and purchasing tickets can be found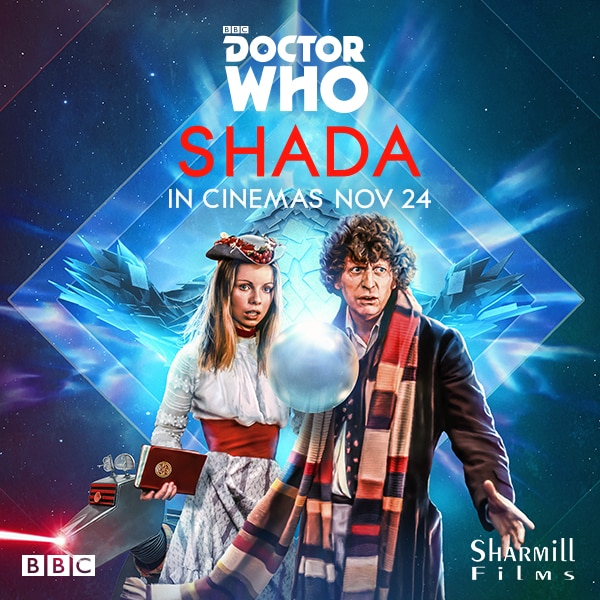 In 1979, Shada was set to be the celebratory end to the seventeenth series of  Doctor Who. Critically acclaimed writer Douglas Adams had completed the script, Tom Baker's Doctor was at the height of his popularity, and the series had bigger audiences than ever before. But strike action at the BBC in November 1979, meant the studio scenes were never completed and the adventure was abandoned. The story became legendary among fans.
Now, thirty-eight years on, Shada has finally been completed, combining the original, remastered footage, with brand new colour animation to complete the story. The animation will feature the newly-recorded voices of the original cast, including Tom Baker as the Doctor and Lalla Ward as Romana, performing the original script.
The new feature-length production incorporates all of the live-action scenes from 1979, together with new animated material. Shada finds the Doctor in Cambridge working alongside companion Romana and retired Time Lord, Professor Chronotis, to defeat the evil alien Skagra who is attempting to steal the secrets to the prison planet, Shada.
Watch the trailer below.
Information on participating cinemas and purchasing tickets can be found at www.sharmillfilms.com.au