November 05, 2013
The DVD contents and cover of An Adventure in Space and Time - the special, one-off drama, telling the tale of how Doctor Who was brought to the screen - have been released.
Synopsis
Actor William Hartnell felt trapped by a succession of hard-man roles. Wannabe producer Verity Lambert was frustrated by the TV industry's glass ceiling. Both of them were to find unlikely hope and unexpected challenges in the form of a Saturday tea-time drama, time travel and monsters! Allied with a team of brilliant people, they went on to create the longest-running science fiction series ever, now celebrating its 50th anniversary.
Extras
Leaflet featuring programme images and an exclusive foreword by writer and executive producer Mark Gatiss
William Hartnell: The Original
The Making of An Adventure - narrated by Carole Ann Ford
Reconstructions:

Scenes from An Unearthly Child and the pilot episode
Regenerations
Farewell to Susan (from The Dalek Invasion of Earth)
Festive Greeting (from The Daleks' Master Plan)

The Title Sequences
Deleted Scenes:

The Radiophonic Workshop
Verity's Leaving Party

English subtitles for the hard of hearing, audio description and audio navigation.
5.1 soundtrack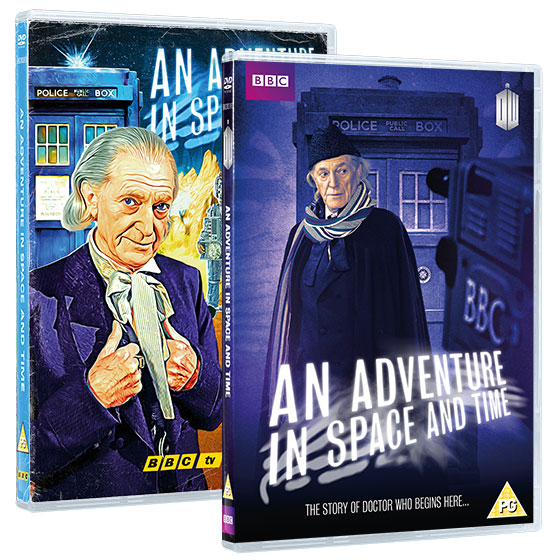 Credits
An Adventure in Space and Time is written by Mark Gatiss, executive produced by Mark Gatiss, Steven Moffat and Caroline Skinner and directed by Terry McDonough. David Bradley (Harry Potter, Game of Thrones, Broadchurch) plays the lead role of William Hartnell while Jessica Raine (Call the Midwife, The Woman in Black) co-stars as the first ever producer of Doctor Who, Verity Lambert. The stellar cast is joined by Sacha Dhawan (Waris Hussein), Lesley Manville (Heather Hartnell), and Brian Cox (Sydney Newman).
Release Dates
Region 2: 2 December 2013