September 30, 2013
Millions of Doctor Who fans across six continents will get to enjoy The Day of the Doctor simultaneously, in a BBC Worldwide global simulcast and cinema extravaganza.
In a first for Doctor Who, fans in at least 75 countries - from Canada to Colombia, Brazil to Botswana and Myanmar to Mexico - will be able to enjoy the episode in 2D and 3D* on 23 November 2013, at the same time as the BBC One UK broadcast**.
The simulcast will also be shown on BBC America in the United States, ABC in Australia and Space in Canada, as well as in numerous countries across Europe, Latin America and Africa. More countries are expected to confirm within the next month. The Day of the Doctor stars Matt Smith, David Tennant, Jenna Coleman with Billie Piper and John Hurt.
See a full list of countries screening The Day of the Doctor simultaneously »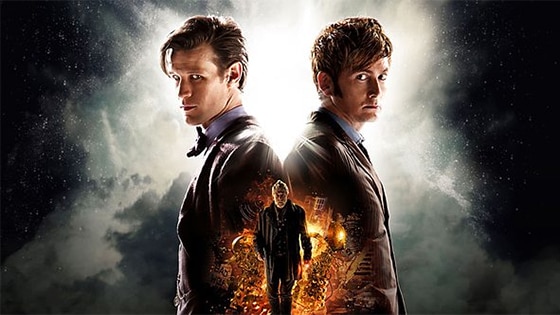 On top of the worldwide concurrent TV broadcast, hundreds of cinemas across the world plan to screen the special episode simultaneously in full 3D, giving fans the opportunity to make an event of the occasion and be part of a truly global celebration for the iconic British drama series. Details about tickets for the anniversary screening will be announced in due course.
Tim Davie, CEO of BBC Worldwide comments: "Few TV shows can still lay claim to being appointment viewing but Doctor Who takes this to another level. In its 50th anniversary year we wanted to create a truly international event for Doctor Who fans in as many countries as possible and the simultaneous broadcast and cinema screening of the special across so many countries will make for a fitting birthday tribute to our Time Lord."
Steven Moffat, showrunner and executive producer of Doctor Who says: "The Doctor has always been a time traveller - now he's travelling time zones. On the 23rd of November, it won't be the bad guys conquering the Earth - everywhere it will be The Day of the Doctor!"
In the UK, the free-to-air 3D coverage will be available to those with access to a 3D TV set and to the BBC's HD Red Button service. This is part of the BBC's two-year trial experimenting with 3D production and distribution, which has also included selected coverage from Wimbledon 2012 and the London 2012 Olympic Games.
The 50th anniversary weekend for Doctor Who in November will also see over 20,000 fans gather at London's ExCel for the official celebration event which will feature appearances from cast old and new including Matt Smith and former Doctors Sylvester McCoy, Colin Baker and Tom Baker.
Any questions? Read our simulcast FAQ »
*3D television broadcast is subject to availability within global region.
** Or November 24, if you're on the other side of the international date line - check local broadcaster for details.
Full list of sim-TX broadcasters
The Day of the Doctor will be screened simultaneously in these territories, on the following channels:
Europe
Finland (YLE)
Germany (Fox)
Poland (BBC Entertainment)
Russia (Karousel and NKS)
United Kingdom (BBC One)
Australia
North America
Canada (Space)
USA (BBC America)
Latin America
BBC Entertainment and BBC HD broadcast to:
Argentina
Bolivia
Brazil
Chile
Colombia
Costa Rica
Dominican Republic
El Salvador
Ecuador
Guatemala
Honduras
Mexico
Nicaragua
Panama
Paraguay
Peru
Uruguay
Venezuela
Africa
BBC Entertainment broadcasts to:
Angola
Benin
Botswana
Burkina Faso
Burundi
Cameroon
Cape Verde Islands
Central African Republic
Chad
Congo
Cote d'Ivoire
Democratic Republic of the Congo
Djibouti
Equatorial Guinea
Eritrea
Ethiopia
Gabon
Gambia
Ghana
Guinea
Guinea Bissau
Kenya
Liberia
Madagascar
Malawi
Mali
Mauritania
Mauritius
Mozambique
Namibia
Niger
Nigeria
Rwanda
Sao Tome & Principe
Senegal
Seychelles
Sierra Leone
Somalia
South Africa
Sudan
South Sudan
Swaziland
Tanzania & Zanzibar
Togo
Uganda
Zambia
Zimbabwe
Asia
BBC Entertainment broadcasts to:
Hong Kong
Indonesia
Malaysia
Myanmar
Singapore
South Korea
Taiwan
Thailand
FAQs
Why are only some countries / channels showing The Day of the Doctor on TV at the same time as the UK?
BBC Worldwide has offered the simulcast of the Doctor Who 50th anniversary episode to the primary broadcaster in each country where Doctor Who is currently broadcast. The decision on whether the episode is shown simultaneously with the UK is down to the individual broadcaster in each territory. There may be various reasons why a broadcaster has chosen not to join, for example, due to a clash between programme classification and the potential broadcast slot, or deciding they don't want to broadcast it until they have completed series 7.
What about countries / channels that are behind on series transmission?
While anyone should be able to enjoy the episode regardless of whether they have watched Doctor Who in the past or not, some broadcasters may take the decision to run the series in sequence and therefore broadcast it at a later date. .
Will there be anywhere online I can watch the episode simultaneously?
Not at this stage. Online platforms may have the option to show it at a later date.
Presumably some countries will have ad breaks and will become out of sync with the UK?
The decision on whether to run advertising during the broadcast lies with the broadcaster in each country. Simultaneous refers to the programme start time.
In which countries will I be able to see the programme in cinemas?
Countries and cinema chains which will be joining the simultaneous transmission are being finalised and we will have more information on this in due course. 
The BBC announced other programmes that will be shown around the 50th anniversary – will these also be shown in my country?
The decision to broadcast any complementary Doctor Who programming lies with individual broadcasters in each country. Viewers should check their local TV schedules for more information.
When will I be able to buy cinema tickets?
Fans should check doctorwho.tv for further information on which cinemas will be showing the episode and when tickets will be on sale.
I've got tickets to the Doctor Who Celebration – is there somewhere when I can watch the 50th special nearby?
We are developing options for fans attending the celebration who will want to watch the episode live.  We will have further information in due course and fans should continue to check doctorwho.tv.
Will cinemas only be showing it on the 23rd?
Most cinemas will only be showing it on the 23rd (or 24th you are in Australia or New Zealand). However, some cinemas may have additional screenings.
When will the DVD be available and how much is it?
The Day of the Doctor will be released in the UK on December 2 and in the US on December 10.   Please check individual retailer websites for DVD prices.