December 11, 2019
With just over two weeks to go until Christmas Day, there's just enough time to order the perfect gift for the Doctor Who fan in your life (or to treat yourself!)
With the twelve days of Christmas fast approaching, we have twelve perfect gifts for a lover of all things Doctor Who, whether they want to fly around the cosmos or whether they prefer to read the adventures in their own private TARDIS.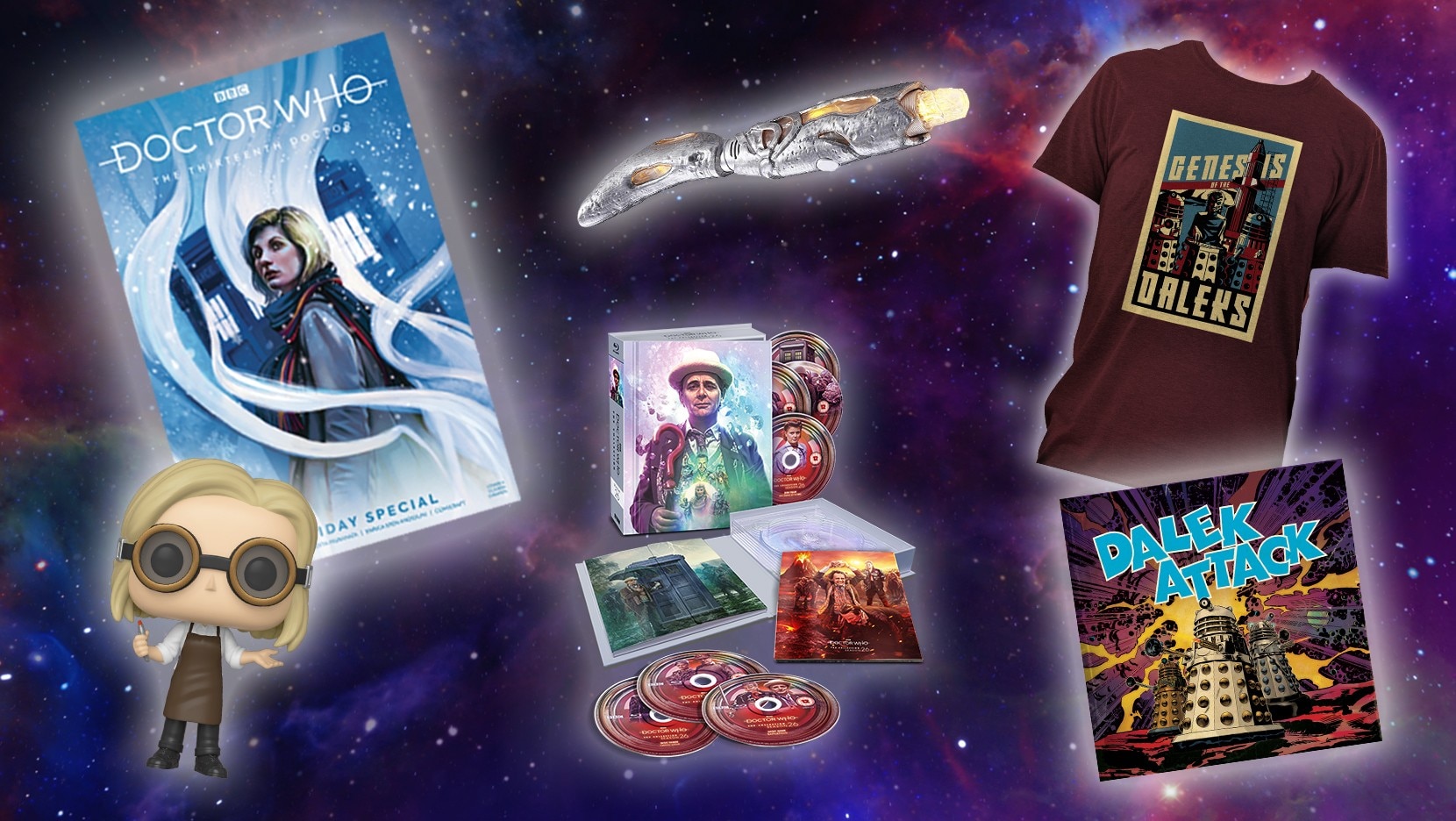 For the would-be companion in your life! Wrap up warm when travelling the universe

The Doctor is one heck of a style icon, and the Thirteenth Doctor definitely took from her predecessors great taste in clothes. If you're looking to keep warm and chic this Christmas, Lovarzi have plenty of amazing apparel for wanderers of time and space.
Order your Thirteenth Doctor scarf from Lovarzi now.
Pre-order tickets for Time Fracture – The Immersive Adventure
You can get Gallifreyan priority tokens for Doctor Who: Time Fracture – An Immersive Adventure, these allow you to pick a day next year for admission, plus you unlock exclusive extras.
Get your tokens from Immersive Doctor Who
Play Doctor Who: The Edge of Time on VR
Doctor Who: The Edge Of Time is available now for PlayStation VR, Oculus Rift, Oculus Quest, HTC Vive and HTC Vive Cosmos. Head here to find a version for your VR console.
Control the universe with the Doctor's Sonic!
Get ready for the return of Doctor Who in Series 12 with Doctor's weapon of choice – something to fix rather than fight. The Thirteenth Doctor's sonic was made from spoons and Sheffield steel, but you can get your own version!
Or if you're looking for a sonic of old, from the Third to the Eleventh, there's a sonic collection, a perfect choice for fledgling Time Lords to Gallifreyan collectors.
The Thirteenth Doctor Sonic Screwdriver is available now, as well as this Sonic Screwdriver set.
For the explorer of the bookshelves rather than time and space
Can the Doctor save Christmas? Find out in this exciting new Thirteenth Doctor comic!
Titan Comics has released a two-part Holiday Special for the Thirteenth Doctor, with part one out now and part two landing right before schools break up for Christmas! Doctor Who The Thirteenth Doctor: Holiday Special sees the Thirteenth Doctor and her fam saving the universe from the most unlikely of villains…
You can buy or order Doctor Who: The Thirteenth Doctor Holiday Special at your local comic shop, or order digital copies now. Visit Titan Comics for more information.
Meet historical celebrities with everyone's favourite time-traveller

When you travel through time like the Doctor, eventually you're likely to run into a historical celebrity or two. The Thirteenth Doctor has mentioned many famous historical figures in Series 11, now we can find out what happened! Featuring Amelia Earhart, Elvis, Harry Houdini, Audrey Hepburn… and the Doctor of course!
You can read about the meeting of more historical figures in Star Tales, out now. You can order it here.
Perfect for audio fans who love a classic tale of terror!

Urgent message to all Anti-Dalek Force agents: the battle continues! This new volume of audio stories from BBC Audio features Daleks and the brave humans who fight against them. Featured are five tales of adventure - The Fugitive, Assassination Squad, Blockade, The Planet That Cried 'Wolf!' and Nightmare, all from Terry Nation's Dalek Annuals of the 1970s.
Dalek Attack: Blockade & Other Stories is available on Amazon and Audible now
The Sixth Doctor gets a Christmas special

Just in time for Christmas, enjoy a full-cast Christmas Special audio drama from Big Finish, with four festive fables featuring the colourful Sixth Doctor and Peri! Tinsel, carols, Dickens, reindeers, and even Santa himself all make an appearance, but there's something sinister stalking the TARDIS team.
Order Blood on Santa's Claw from Big Finish.
For someone looking to re-decorate their own personal TARDIS
Personalised stationery!
From all manner of clocks to lunchboxes, there's designs from London 1965 all the way to the Thirteenth Doctor and fam at our shop. And you can order an array of personalised items for your favourite Time Lord! Or why not pick up some exclusive Series 12 pieces?
Check out the full range at https://shop.doctorwho.tv/
Get Funko-y with some Series 11 Funko Pops

Surely a familiar sight to any cult fan's shelf, there are Funko Pop figurines for every show in the galaxy. And right before Santa is on his way, there are four new Funko designs from Series 11, including the toothy Tim Shaw, everyone's favourite deliveryman from Kerblam!, the latest version of the Daleks, and the Thirteenth Doctor herself.
Order the latest Doctor Who designs from Funko here
Iconic Doctor Who stories now as classic t-shirts

Hero Collector have re-imagined some classic Doctor Who stories into some truly out of this world apparel – two fan favourites, Tomb of the Cybermen and Genesis of the Daleks are available now! Or there's Hero Collector impressive figurine collection – launching some familiar faces for Doctor Who fans next year.
Check out Hero Collector's range of T Shirts, apparel and other figurines here
Fill the shelves with the ultimate Doctor Who collection!
Pre-order Doctor Who – Season 26 from Amazon.
"A happy Christmas to all of you at home!"