May 22, 2016
William Shakespeare's A Midsummer Night's Dream has been produced many times for stage and screen and this Bank Holiday Monday BBC One present a breathtaking version from former Doctor Who showrunner, Russell T Davies.
The production was made at Roath Lock in Cardiff, the very home of our favourite television show. Not surprisingly, there's a huge crossover with many recognisable Doctor Who faces and names. Below you'll find 10 good reasons to tune in next week.
1. Russell T Davies
If you're a Doctor Who fan, you might recognise that name. RTD, as he's sometimes affectionately known, helped bring the show back to television and was the showrunner from 2005 until The End Of Time Part 2 in 2010. Russell also launched the spin-off shows, Torchwood and The Sarah Jane Adventures.
RTD has packed his version of Shakespeare full of fun, like only Russell can.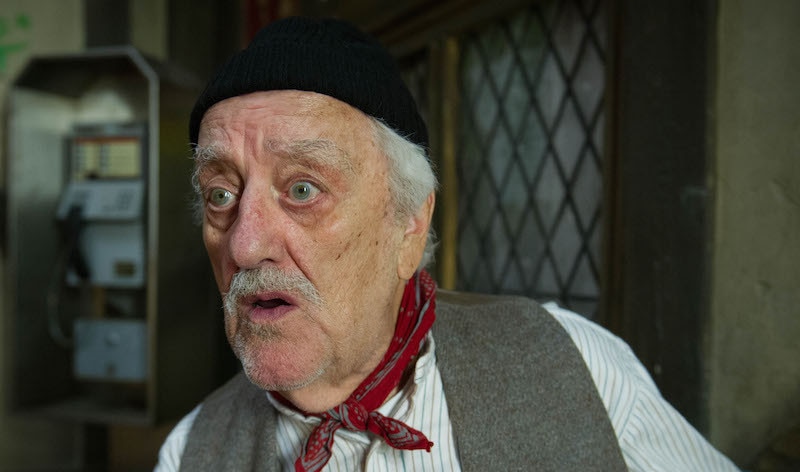 2. Wilf is in it!
The legend that is Bernard Cribbins appears as Snout, a member of an acting troupe consisting of a couple more Wholumni (more on them later). Cribbins first appeared as Donna's grandfather in 2007's Voyage Of The Damned, and then returned for numerous memorable appearances throughout Series 4 and then once again for David Tennant's finale, The End Of Time.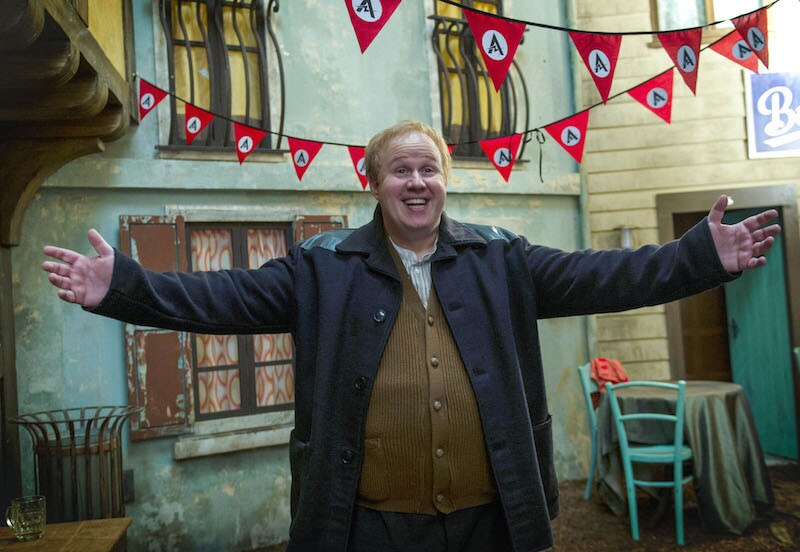 3. I know that street!
Eagle-eyed viewers may spot a familiar looking street in A Midsummer Night's Dream - it's the "Trap Street" that Ashildr was the mayor of in 2015's heartbreaking episode, Face The Raven. Fact fans will also note that the same set was used for the opening scene on Mendorax Dellora in last year's Christmas Special, The Husbands Of River Song.
4. I Don't Believe It - It's Richard Wilson!
Back to the acting troupe, and complementing Cribbins' role is Starveling, played by Richard Wilson, also known as Dr. Constantine from 2005's The Empty Child / The Doctor Dances. He and Cribbins make for a wonderful double-act.
5. The End of Time
Check out the pic below, remind you of an episode?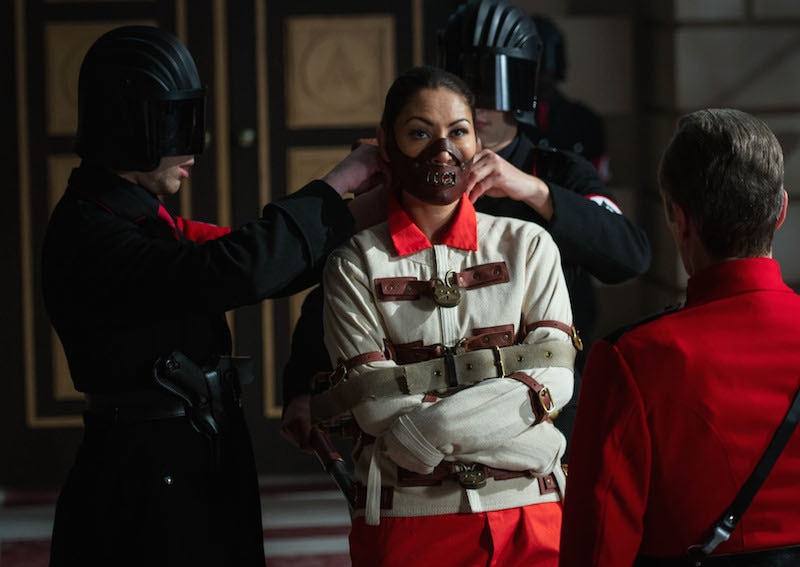 Yup, very similar to those iconic moments in the Tenth Doctor finale The End of Time, when both The Master and David Tennant found themselves strapped up!
6. Matt Lucas
The comedic actor, who shot to fame as one half of the Little Britain double act along with David Walliams (cowardly Gibbis in The God Complex), plays the famous role of Bottom in RTD's adaptation. Fans will remember him as Nardole in the aforementioned, The Husbands Of River Song.
7. The Sounds of Christmas Past
Bat-eared viewers will perhaps recognise two of the voices on display. Actor Nonso Anozie puts in a truly memorable performance as Oberon but he also provided the voice of Hydroflax (when not being inhabited by comedian Greg Davies) in The Husbands Of River Song.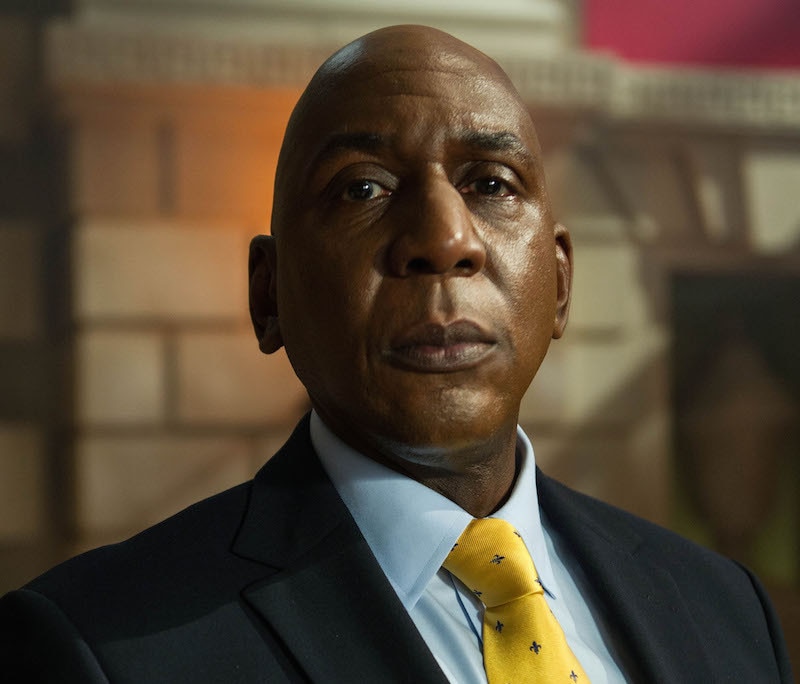 Colin McFarlane plays Egeus in A Midsummer Night's Dream whilst in Doctor Who he lent his sonorous tones to the Heavenly Hosts in 2007's Voyage of the Damned. The actor would also return in physical form to play the tragic Moran in Before the Flood / Under the Lake (2015). In 2009 he also played the recurring character of General Austin Pierce in spin-off, Torchwood: Children Of Earth.
And while we're talking about the cast, let's say hello to Eleanor Matsuura (pictured below), last seen as short-lived journalist Jo Nakashima in 2008's The Sontaran Stratagem (2008). The actress plays Hippolyta in A Midsummer Night's Dream.
8. Behind-the-scenes
The fantastic actors and actresses for this lavish production were the result of the talented Andy Pryor, Doctor Who's very own casting guru since 2005. You'll find many familiar names in A Midsummer Night's Dream along with a troupe of outstanding young new talent.
Serving as producers are Nikki Wilson and Brian Minchin; the former has produced a number of Who episodes since 2009 whilst the latter is the show's current executive producer.
The wonderful visuals also have an impressive roster of Doctor Who name behind them, notably: Production Designer Michael Pickwoad; Costume Designer Ray Holman; and Make-Up Designer Neill Gorton of Millennium FX, responsible for the likes of the eye-popping Bottom below.
9. Murray Gold
Doctor Who's musical maestro since 2005, Murray delivers a beautiful score, matching the many moods of the play. He even gives our old friend Bernard Cribbins a song to sing at the end, one of the many highlights!
10. IT'S AMAZING!
Yup, we're NOT lying. Russell T Davies has created a lot of fantastic and memorable in his time and this is yet another to add to his awesome oeuvre. If you're not a Shakespeare fan, or don't think you are, don't worry - this won't seem like the more traditional Bard you may be used to. RTD's take on Shakespeare is as big and bold as Doctor Who itself.
You can watch A Midsummer Night's Dream May 30 at 8.30pm on BBC One