Steven Moffat celebrates a 'new chapter' for Doctor Who
Doctor Who showrunner Steven Moffat told the audience at the Doctor Who Celebration that The Day of the Doctor was a relaunch.
"It's a new chapter of the story. He's got the possibility of going home, as he says, the long way round. I suppose we all know if he ever got there he'd be awfully bored and then he'd run away again - that would be in the 100th [anniversary special]."
Moffat continued: "Weirdly this has been - lets big it up, because it deserves it - for a show that didn't need any kind of relaunch, this has been a relaunch. 10.2 [million viewers] on the overnights is preposterous, nothing gets that any more."
Speaking about the brief appearance of the next actor to play the Doctor, Peter Capaldi, in the anniversary special, Moffat said: "I love that he's getting so much credit for less than half his face for less than a second. Well done Capaldi."
The Day of the Doctor was simulcast to a record-breaking 94 countries on the 50th anniversary of Doctor Who.
Hear more of what Steve Moffat, Jenna Coleman and Matt Smith had to say at the Celebration: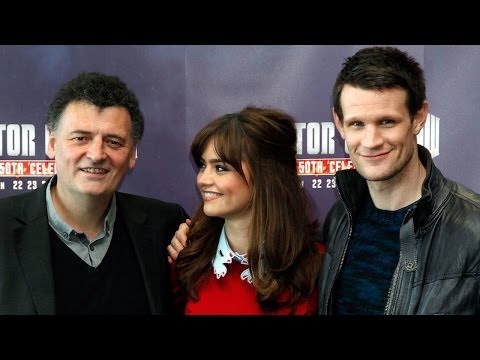 The Doctor Who 50th Celebration is a three day event at ExCeL celebrating 50 years of the world's longest running sci-fi drama, Doctor Who. The event welcomes over 20,000 fans to East London over the anniversary weekend and features cast and crew from the very first episode to the most recent. Matt Smith, Tom Baker, Peter Davison, Colin Baker and Sylvester McCoy lead the all-star cast and are joined by Jenna Coleman, Steven Moffat, Bernard Cribbins, Carole Ann Ford and many more.