Put your face into the Doctor Who title sequence!
| Christopher Allen | Permalink
Doctor Who - starring You! Fans can now have their chance to star in the iconic Doctor Who title sequence, as BBC Worldwide unveil the #SaveTheDay – Who is Coming personalised video invite Facebook app.
Mirroring the way Eleventh Doctor Matt Smith's name and face appear in the televised version of the opening credits, fans can now visit the Doctor Who Facebook page to digitally adapt the start of the show, thanks to new technology including HTML5 video and canvas – and share the result with friends.
Find out how to make your own personalised invite, below: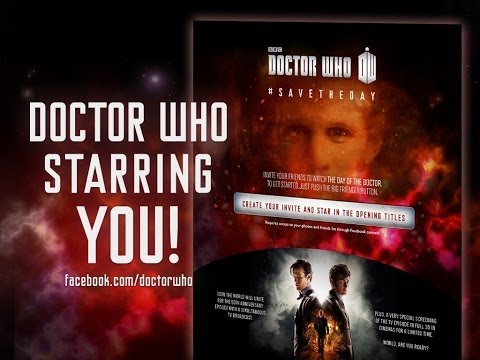 On 23 November 2013, a special 50th Anniversary episode of Doctor Who, the world's longest running and most successful sci-fi series will, for the first time ever, be broadcast simultaneously to millions of viewers worldwide in a global simulcast, whilst hundreds of cinemas in the UK and across the world will screen the special episode simultaneously in full 3D.
The #SaveTheDay – Who is Coming personalised invite enables fans to share their video via Facebook and Twitter to encourage friends to hold the special date - watching the 50th Anniversary episode at home or at one of the worldwide cinema screenings. The Facebook app also allows fans to discover where they can watch The Day of the Doctor via doctorwho.tv plus the opportunity to purchase official merchandise for Doctor Who themed parties.
Visit the official Doctor Who Facebook page now, and put yourself into the title sequence!