Peter Capaldi's Twelfth Doctor Festive Finale To Screen In US Cinemas
| Cameron McEwan | Permalink
Whovians are getting a special gift this festive season from Fathom Events with the Doctor Who Christmas Special, Twice Upon a Time. The epic finale to the Twelfth Doctor era of Doctor Who is coming to U.S. movie theaters for one night only!
Doctor Who fans can watch Twice Upon a Time in cinemas on Wednesday, 27 December, 2017 at 7:00 pm (local time). The event was also include EXCLUSIVE content featuring Twelfth Doctor actor Peter Capaldi and showrunner Steven Moffat.
Tickets for Twice Upon a Time can be purchased from 20 October 2017 from www.FathomEvents.com or at participating theater box offices – a complete list of theater locations is available on the Fathom Events website here.
The Christmas Special features the return of actress Pearl Mackie with special guests Mark Gatiss, and David Bradley as the First Doctor. Twice Upon a Time introduces the Thirteenth Doctor, played by Jodie Whittaker, who is the first woman to assume the role.
Read more about Twice Upon A Time here.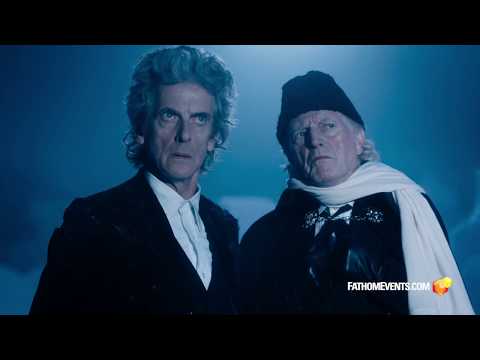 The cinema event will also feature two exclusive bonus pieces, taking audiences behind the scenes to the filming of this holiday special and celebrating the tenures of Peter Capaldi as the Doctor and Steven Moffat as showrunner and lead writer:
The End of An Era
Screening before the episode in theaters, this focuses on Peter Capaldi and Steven Moffat's time on Doctor Who.

Doctor Who Extra
The regular behind the scenes bonus content, which will play after the episode.
Sergei Kuharsky, EVP Franchise and Digital Enterprises, BBC Worldwide North America, says:
"The regeneration of the Doctor is a must see event for Doctor Who fans around the world. To be able to feature Doctor Who: Twice Upon a Time in theaters across the U.S. - with our long-standing partner, Fathom Events, gives fans another chance to celebrate Peter Capaldi as the Doctor.

And who wouldn't want to watch the historic emergence of Jodie Whitaker as the first female Doctor on the big screen?"