Moffat teases future Who
The producer and head writer of Doctor Who, Steven Moffat, has teased that an unresolved plot line will be revisited.
When asked by an audience member at the Doctor Who Celebration 'what was in the Doctor's room in The God Complex', he replied: "Keep watching. We will come back to it."
Eleventh Doctor Matt Smith then added: "Sooner that you think…"
Hear what Steven Moffat, Matt Smith and Jenna Coleman had to say at the opening of the Doctor Who Celebration: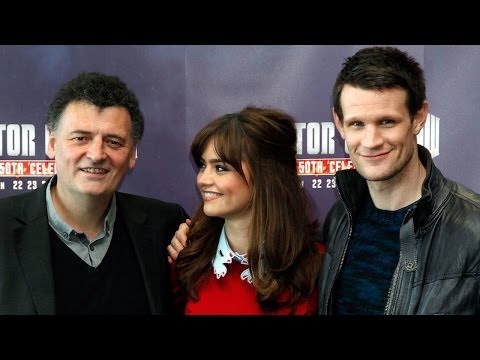 Steven Moffat also revealed that his very first Doctor Who script may still see the light of day. He told the sold-out audience at London's ExCel that a story called Night of the Bards - which included a doomsday button marked 'Do Not Touch' - was written by him as a child, and that his dad still has the script somewhere.
The Doctor Who 50th Celebration is a three day event at ExCeL celebrating 50 years of the world's longest running sci-fi drama, Doctor Who. The event welcomes over 20,000 fans to East London over the anniversary weekend and features cast and crew from the very first episode to the most recent. Matt Smith, Tom Baker, Peter Davison, Colin Baker and Sylvester McCoy lead the all-star cast and are joined by Jenna Coleman, Steven Moffat, Bernard Cribbins, Carole Ann Ford and many more.