October 10, 2017
This week BBC Worldwide announced that Shada – a Fourth Doctor story which had its filming abandoned due to a strike – is to be released later this year with the original footage and completed with hand-drawn animation.
Read more about the new Shada release on digital download/bluray/DVD here.
Some fans may be curious as to the history of this adventure, written by The Hitchhiker's Guide To The Galaxy author (and Doctor Who script editor), Douglas Adams.
Well, good news – BBC Books' Whographica: An Infographic Guide To Space And Time is here to help!
Released last year, the Whographica is a fantastic and fun reference book from Simon Guerrier (The Scientific Secrets of Doctor Who), Steve O'Brien (Doctor Who Magazine) and Ben Morris (Radio Times).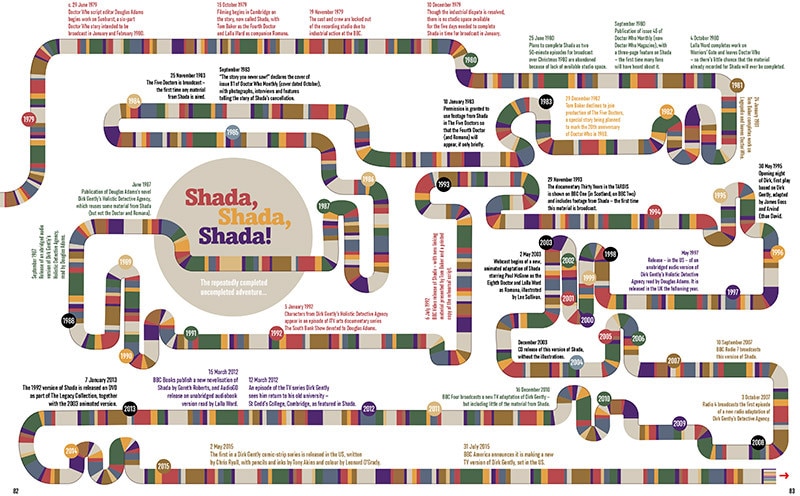 Find below, an abridged version of the Whographica's unique look at Shada…
Shada, Shada, Shada!
The repeatedly completed uncompleted adventure…
c. 29 June 1979
Doctor Who script editor Douglas Adams begins work on Sunburst, a six-part Doctor Who story intended to be broadcast in January and February 1980.
15 October 1979
Filming begins in Cambridge on the story, now called Shada, with Tom Baker as the Fourth Doctor and Lalla Ward as companion Romana.
19 November 1979
The cast and crew are locked out of the recording studio due to industrial action at the BBC.
10 December 1979
Though the industrial dispute is resolved, there is no studio space available for the five days needed to complete Shada in time for broadcast in January.
5 June 1980
Plans to complete Shada as two 50-minute episodes for broadcast over Christmas 1980 are abandoned because of lack of available studio space.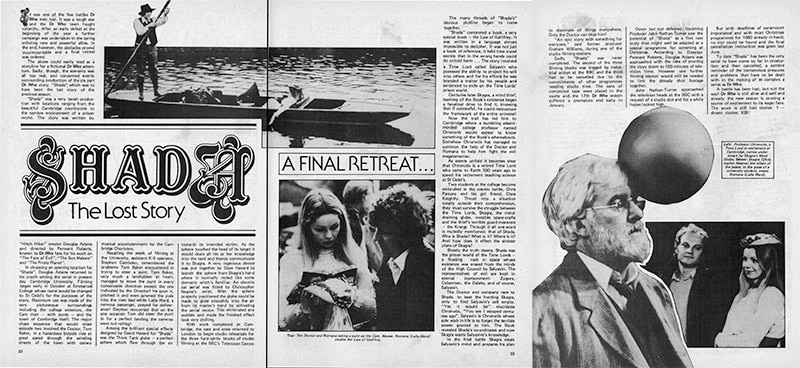 September 1980
Publication of issue 45 of Doctor Who Monthly (now Doctor Who Magazine), with a three-page feature on Shada – the first time many fans will have heard about it.
4 October 1980
Lalla Ward completes work on Warriors' Gate and leaves Doctor Who – so there's little chance that the material already recorded for Shada will ever be completed.
24 January 1981
Tom Baker completes work on Logopolis and leaves Doctor Who.
29 December 1982
Tom Baker declines to join production of The Five Doctors, a special story being planned to mark the 20th anniversary of Doctor Who in 1983.
10 January 1983
Permission is granted to use footage from Shada in The Five Doctors so that the Fourth Doctor (and Romana) will appear, if only briefly.

September 1983
"The story you never saw!" declares the cover of issue 81 of Doctor Who Monthly (cover dated October), with photographs, interviews and features telling the story of Shada's cancellation.
25 November 1983
The Five Doctors is broadcast – the first time any material from Shada is aired.
June 1987
Publication of Douglas Adams's novel Dirk Gently's Holistic Detective Agency, which reuses some material from Shada (but not the Doctor and Romana).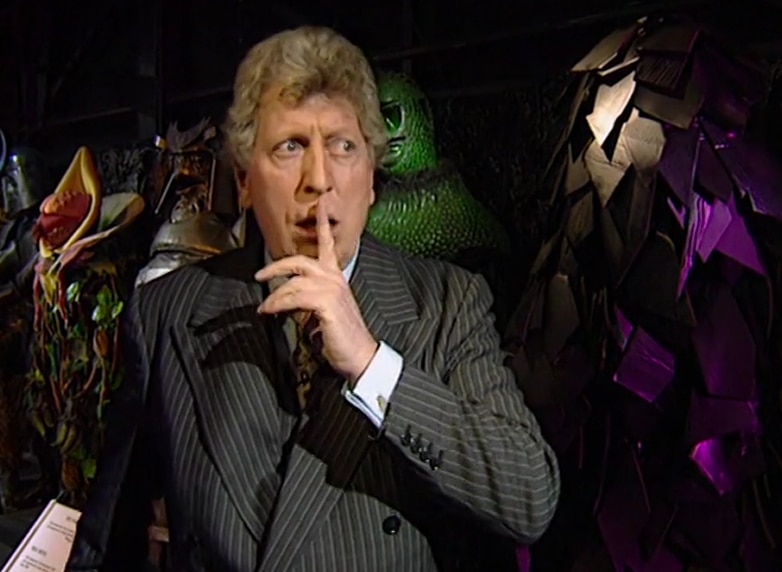 6 July 1992
BBC Video release of Shada – with new linking material presented by Tom Baker and a printed copy of the rehearsal script. (Pictured above.)
29 November 1993
The documentary Thirty Years in the TARDIS is shown on BBC One (in Scotland, on BBC Two) and includes footage from Shada – the first time this material is broadcast.
2 May 2003
Webcast begins of a new, animated adaptation of Shada starring Paul McGann as the Eighth Doctor and Lalla Ward as Romana, illustrated by Lee Sullivan. (Pictured below.)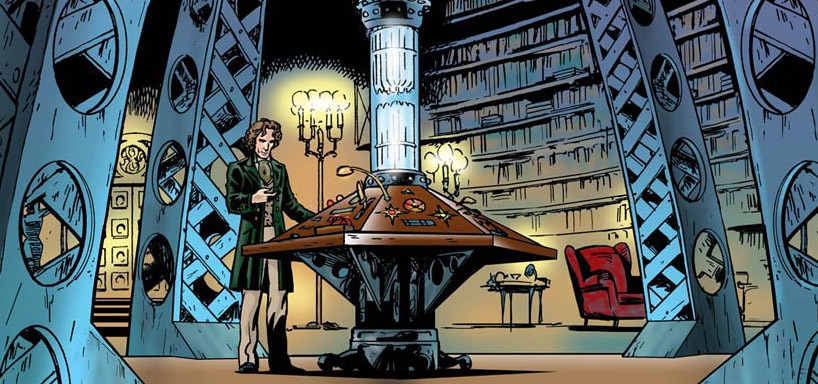 December 2003
CD release of this version of Shada, without the illustrations.
10 September 2007
BBC Radio 7 broadcasts this version of Shada.
15 March 2012
BBC Books publish a new novelisation of Shada by Gareth Roberts, and AudioGO release an unabridged audiobook version read by Lalla Ward.
7 January 2013
The 1992 version of Shada is released on DVD as part of The Legacy Collection, together with the 2003 animated version. (Pictured below.)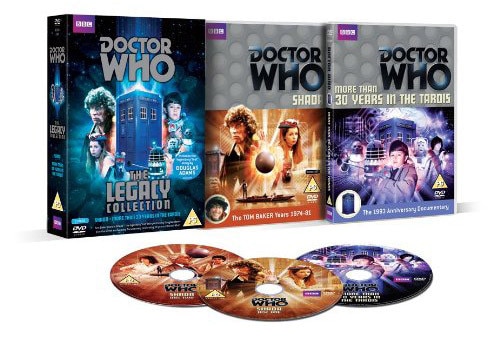 Since the publication of Whographica: An Infographic Guide To Space And Time, we have some new dates and information on Shada to add…
10 Oct 2017
BBC Worldwide announce that Shada will be completed using the previously shot footage and hand-drawn animation for digital download, Blu-ray and DVD. More details here.
24 Nov 2017
Shada released complete for the first time on digital download. Purchase on iTunes here (UK).
2 Dec 2017
The BFI Southbank in London to host special Shada event, showing it on the big screen to the public for the first time.
4 Dec 2017
Shada released on Blu-ray, DVD and Steelbook, 38 years after the initial filming was abandoned.
Purchase DVD and Blu-ray (UK) here
Purchase Steelbook (UK) here