November 09, 2013
Take a step closer to becoming a Time Lord and transform your phone into a Sonic Screwdriver with the official Doctor Who Virtual Sonic Screwdriver app.
Featuring four detailed 3D models of Sonic Screwdrivers, belonging to the Third, Fourth, Tenth and Eleventh Doctors, each with their own unique features and authentic sounds from the show.
Buy the official Virtual Sonic Screwdriver app
It also has two background options - a deep space starfield for when you want to explore the cosmos, and an augmented reality experience utilising your phone's camera, for when you want to operate your sonic in the real world. The app also controls your phone's flash making it the coolest flashlight app in the galaxy.
The Doctor uses his Sonic Screwdriver to unlock doors and hack computer systems. He defeats Daleks and scares Cybermen; he scans the shadows for Vashta Nerada, and lights the way to whole new worlds! He saves the universe every day - what will you do with yours? Your imagination is the only limit.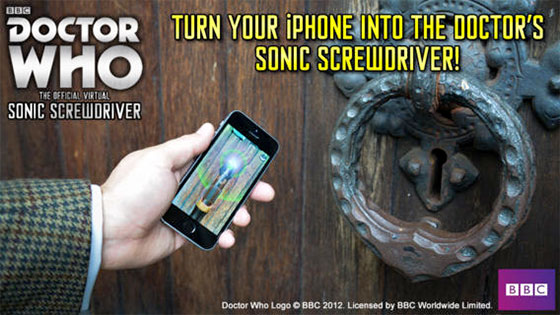 The official Virtual Sonic Screwdriver app has been designed by Australian app designers Useless Creations and is available globally via the Apple App Store, just in time to celebrate Doctor Who's 50th anniversary.
Helen Pendlebury, Head of Brand Licensing and Live Entertainment, said: "We're really pleased to bring fans this fun, interactive Sonic Screwdriver app as they get ready for Doctor Who's 50th anniversary."