May 30, 2017
The Doctor Who showrunner has been discussing the first part of this year's series finale, World Enough and Time, in the latest edition of Doctor Who Magazine.
Sign up here to the Doctor Who newsletter for EXCLUSIVE offers
During the exclusive Series 10 preview in issue 513 (out now), Steven discusses the notion of 'time dilation', horror in Doctor Who, and the beginning of the end...
World Enough and Time features an idea from the writer's son Joshua (who has a keen interest in physics) – time dilation. In the penultimate episode of Doctor Who Series 10, the "four-strong TARDIS crew" (The Twelfth Doctor, Bill, Nardole and Missy) find themselves on a spaceship being sucked into a super massive black hole. This causes the ship to suffer from time dliation which means that "two days have passed at the front of the spaceship, thousands of years at the back."
Not only that, the ship features a "grim, ghostly hospital" in which much of the episode is set, Steven told DWM:
"We had to make sure that our hospital didn't look very much like any hospital you'd ever actually go to. So it's quite operatic. Huge hospital sets. Huge wards. That's not where kids will go and visit their grannies. It doesn't look like that. At the same time, Doctor Who is in the business of making every dark corner and creepy cupboard seem extra scary – kids expect it to be a bit scary – so you've got those two things sort of at war with each other. But that's the nature of the show."
When asked how far Doctor Who could go with horror on BBC One on a Saturday evening, Moffat replied:
"Exactly as far as we've gone, I would say. Doctor Who is quite horrific, so you've got to deliver on those things. But you try to push it away from real-life horror."
Finally, the Doctor Who showrunner enthused about the reception of the finale:
"When you see these episodes, I think you'll love them – because we love them. I love them. Episode 11 is as properly exciting as Doctor Who has ever been, and, I suppose, it's the beginning of the end..."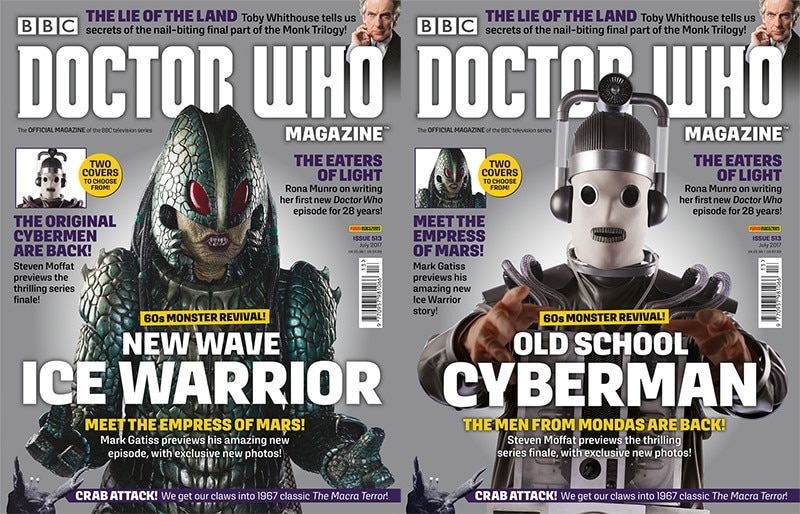 Doctor Who Magazine 513 is available now – get 46% off digital subscription here.