March 26, 2013
After an unprecedented number of pre-registrations since they were announced at the start of the year, Royal Mail's Doctor Who stamps have been released.
Celebrating the 50th anniversary of the world's longest running science fiction series, the Doctor Who stamps are available at 9,000 Post Office Branches (UK only) and online from www.royalmail.com/doctorwho globally.
The stamps were recently launched at an event in London, with former Doctors Tom Baker, Peter Davison and Paul McGann in attendance.
See a gallery of pictures from the Doctor Who stamp launch >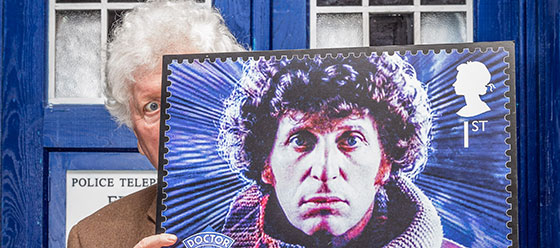 The eleven stamps, all at 1st Class value, feature each of the actors who have played the role of the Time Lord over the last 50 years. In addition to the eleven stamps featuring the Doctors, a five-stamp miniature sheet is also available, featuring a TARDIS and some of the Doctor's most famous foes; a Dalek, a Cyberman, an Ood and a Weeping Angel. See the Doctor Who stamp designs here.
Royal Mail is also creating unique postmarks in each of the home towns of all the actors to have played the Eleven Doctors. This means that all stamped mail sent from Matt Smith's home town of Northampton, will have a special postmark celebrating 50 years of Doctor Who with the name of the actor on it.
Andrew Hammond, Managing Director, Stamps and Collectibles at Royal Mail, said: "Following our launch announcement last year, we've had a fantastic response from the public who seemingly can't wait for the stamps. This shows just how much we all love Doctor Who"
Fiona Eastwood, Product Development Director, BBC Worldwide Consumer Products said: "With the second part to the latest Doctor Who series out very soon, these stamps are the perfect way to mark this as well as the 50th anniversary."