October 05, 2013
A unique, rediscovered TV interview, showing First Doctor William Hartnell shortly after leaving Doctor Who, comes to DVD this month.
Hartnell was filmed for BBC regional news programme, Points West in his dressing room, as he prepared to perform in the pantomime Puss in Boots in Taunton.
When asked about the Daleks, Hartnell claimed that "They were difficult to play to, because you're not looking into human eyes, you're looking at a metal object." He goes on to say he found this "distracting".
And when pressed about his ability to shake off the association with Doctor Who and its extraordinary public popularity, Hartnell assuredly claims that he'll do it by "by making a success in something else" because he's "a legitimate character actor – of the theatre and film".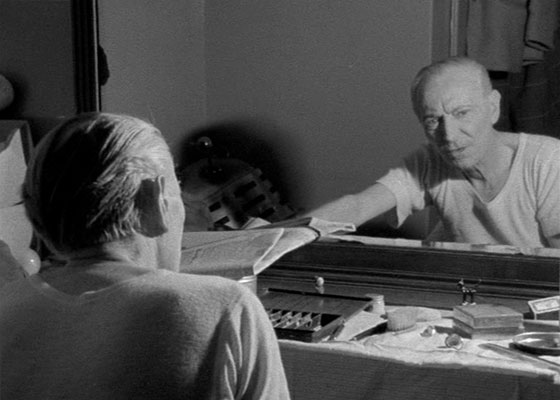 The footage, broadcast on 17 January 1967, was rediscovered by researcher Richard Bignell in 2009. Bignall tracked it down by examining the logs for the BBC's network of regional news programes, to see if any of them had interviewed Hartnell during the panto's four week tour. Two had, but only one – Points West in Bristol – retained any footage. It was swiftly sent to BBC Television Centre in London and digitised for DVD release.
When quizzed on his appeal to children – despite appearing "a rather grumpy sort of person", he reiterates his description of his most famous role as "a cross between the Wizard of Oz and Father Christmas".
Hartnell also admits to being a good singer and dancer in his youth.
The three minute interview is released on The Tenth Planet DVD – William Hartnell's final adventure, recorded three months before this interview – which is available to buy this month.