July 23, 2016
Earlier this month we ran a competition where you could decide what classic Doctor Who monsters would receive some much-needed renovation and be unveiled at the Doctor Who Experience in Cardiff.
Book tickets for the Doctor Who Experience here.
Fans were given the chance to vote for a collection of 8 monsters, with the winning 2 becoming a part of the Doctor Who Experience later this year.
Over 8,000 of you voted - here are the hotly contested results!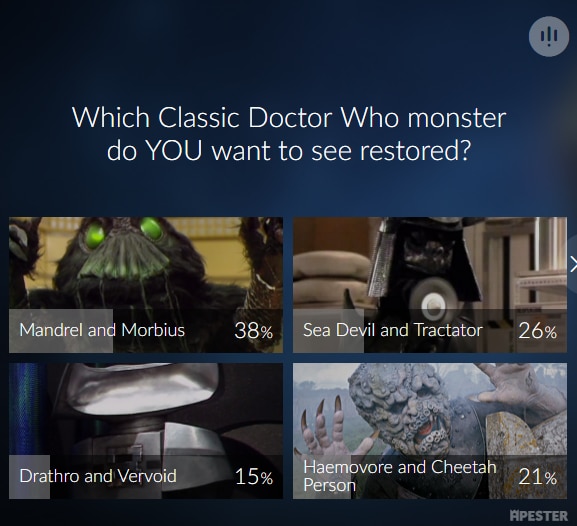 In fourth place, with 15% of the vote - Drathro and Vervoid
In third place, with 21% of the vote - Haemovore and Cheetah Person
In third place, with 21% of the vote - Sea Devil and Tractator
And the winners are…
In first place, with 38% of the vote - Mandrel and Morbius
Fans will remember the Mandrels from the classic Fourth Doctor adventure, Nightmare of Eden - a personal favourite of current showrunner Steven Moffat, as revealed in a recent issue of Doctor Who Magazine.
Morbius was the titular monster created in another Tom Baker story, The Brain of Morbius, a four-parter which also introduced us to the Sisterhood of Karn (who would come back to meet The Eighth Doctor AND The War Doctor in The Night of the Doctor and The Twelfth Doctor in The Magician's Apprentice)
These two wonderful creations will be unveiled during the August Bank Holiday at the Doctor Who Experience. Book tickets here.