May 14, 2018
In an exclusive deal with Sainsbury's supermarket, Doctor Who: Energy of the Daleks produced by Big Finish Productions will be available for the first time on vinyl record. 
From the 25th May, Sainsbury's will be stocking a strictly limited pressing of Energy Of the Daleks on blue 180GM Heavyweight Vinyl. This will be available in participating stores only and limited to 1,500 units. 
The Daleks return to take on Tom Baker's Fourth Doctor in this Doctor Who full-cast audio drama from 2012. The story takes place between The Talons of Weng-Chiang and Horror of Fang Rock, both broadcast on BBC One in 1977.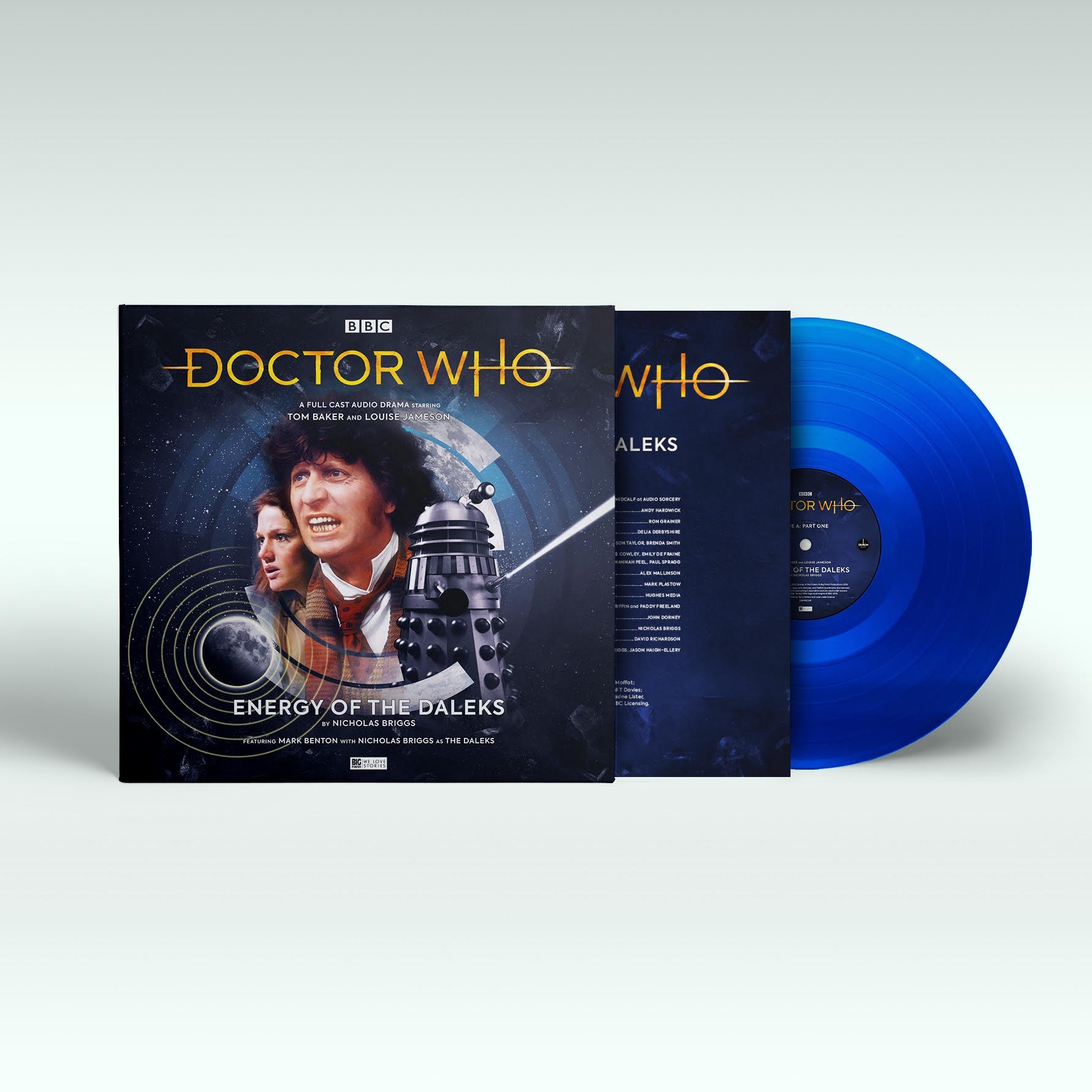 The Fourth Doctor and his companion Leela (Louise Jameson) find themselves in the middle of London at the time of a new energy crisis. The GlobeSphere Corporation seems to have all the answers – but several thousand protesters beg to differ.
The Doctor has detected a mysterious energy reading. Could it be that the most evil creatures in the universe have returned to claim ultimate victory once and for all?
For Tom, Energy of the Daleks was the first time since 1979's Destiny of the Daleks that he'd gone hat-brim to eyestalk with everyone's favourite malevolent pepperpots - but for Louise, it was a first! This is Leela's opening encounter with the Daleks and she's not going to find it a pleasant experience. And speaking of unpleasant experiences, she's not quite ready for the 21st century either. But then, is the 21st century ready for Leela?
Guest stars include: Mark Benton (TV Doctor Who story Rose, Waterloo Road, Land Girls, The Street, Northern Lights, Strictly Come Dancing), Alex Lowe (The Late Edition, The Thick of It, Lead Balloon and Peep Show), TV Sontaran, Dan Starkey, giving life to both Kevin Winston and a Roboman, as well as Nicholas Briggs as the Daleks.
The Fourth Doctor Adventures, which star Tom Baker are available to buy in CD/download format from the Big Finish website.