December 15, 2018
Chris Chibnall has revealed further details about the Doctor Who New Year's Day Special Resolution in Doctor Who Magazine's exclusive preview:
"You want it to feel like a treat: a big, thrilling, explosive, moving, cheeky, surprising treat. Basically, you want the Special to be epic. And I promise, it's going to be epic."
Resolution marks the return of director Wayne Yip, who helmed The Lie of the Land and Empress of Mars for Series 10.
"[Series producer] Nikki Wilson had loved working with Wayne on his episodes in Series 10," says Chris Chibnall. "[Executive producer] Matt Strevens had worked with him on Misfits and loved him. And I'd been especially impressed with Wayne's episode of Class, which kept the characters mostly locked in one room. It's not easy to direct an episode like that and make it continually visually stylish, but he pulled it off with panache.
"I've adored working with him," Chris continues. "He's got great visual flair, imagination and precision. He's a brilliant collaborator with great ideas and he's not afraid of big set-pieces. Which is a good job, because that's what we threw at him."
An ambitious opening sequence sets the tone for the New Year's Day Special.
"It's Doctor Who and you'd be a little bit upset if you weren't bouncing from place to place," says Wayne. "But that's what's so lovely about the series – you can have an episode where they're trapped in a spaceship, and then another week they can be gallivanting across time. But it's the mark of a successful sci-fi show to always make sure there's a strong emotional, human element to it."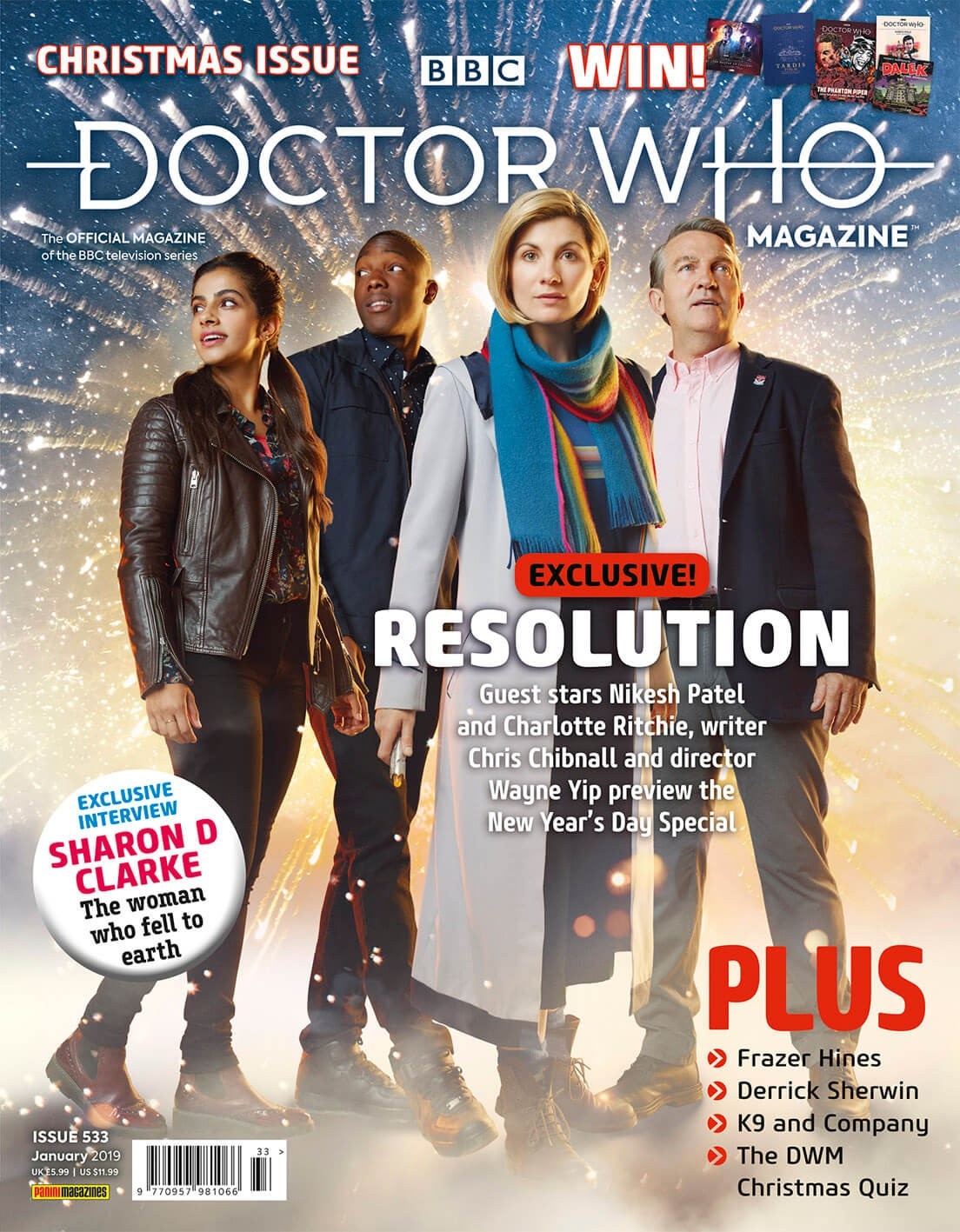 Other highlights of issue 533 include:
SHARON D CLARKE - An exclusive interview with the actress who played Grace O'Brien in the 2018 series.
FRAZER HINES - Frazer pulls some crackers from DWM's TARDIS tin.
DERRICK SHERWIN - A tribute to the writer, story editor and producer who oversaw the series' transition from black and white into colour.
CYBER CONTROLLER - Highlights from a previously unpublished interview with Derrick Sherwin.
PUBLIC IMAGE - The latest in-depth report on Series 11's ratings.
THE FACT OF FICTION - 1981's spin-off K9 and Company, starring Elisabeth Sladen as Sarah Jane Smith.
CHRISTMAS QUIZ - Put your Doctor Who knowledge to the test with the DWM Christmas Quiz.
THE TIME TEAM - The Team comments on Doctor Who's very first Christmas Day episode, 1965's The Feast of Steven.
THE WARMONGER - Part three of a new comic strip adventure featuring the Thirteenth Doctor and her friends.
SEASON SURVEY - Share your views on the latest series of Doctor Who.
EPISODE REVIEWS - Our verdict on Series 11 episodes Demons of the Punjab, Kerblam! and The Witchfinders.
PLUS... - A FREE double-sided poster, The Blogs of Doom, reviews, news, prize-winning competitions and much, much more!
Doctor Who Magazine 533 is on sale now, price £5.99.