September 10, 2016
Big Finish have announced that actor John Barrowman will be returning to the Doctor Who universe as Captain Jack Harkness in an all-new star-studded box set.
The Lives of Captain Jack stars Barrowman alongside Doctor Who stars such as: Camille Coduri (Rose's mum Jackie Tyler), Russell Tovey (Alonso Frame) and Katy Manning (companion Jo Grant). The four adventures see Captain Jack in different times and on different planets, doing battle with a variety of strange and horrible enemies, from Mother Nothing to the Council Of Three.
Captain Jack first appeared in the 2005 episode, The Empty Child, and was last seen in the Tenth Doctor's finale, The End of Time. John Barrowman says:
"I find it really easy to slip into Captain Jack. There's a bit of Jack in John and vice versa. What's great about these stories is that they're the kind of episode we didn't have time for on TV – exploring aspects of Jack that you've never seen before in a timey-wimey way. And getting to work with Camille was amazing. If you're a fan of Captain Jack, or Torchwood or Doctor Who, then I say get them."
Released in June 2017, The Lives of Captain Jack is written by Guy Adams and James Goss. The stories include:
THE YEAR AFTER I DIED: Set in the year 200,101, on an Earth ravaged by the Daleks, we see Jack struggling to save humanity from its oldest enemy.
WEDNESDAYS FOR BEGINNERS: Jack and Jackie Tyler (Camille Coduri) must unite to rescue the Powell Estate from a force whose name Jackie can never say.
ONE ENCHANTED EVENING: Captain Jack and Alonso Frame (Russell Tovey) have only just met. But why did the Doctor want them to be together?
MONTH 25: He's the young star of the Time Agency, and his whole life is about to fall apart. But that's not going to stop him winning.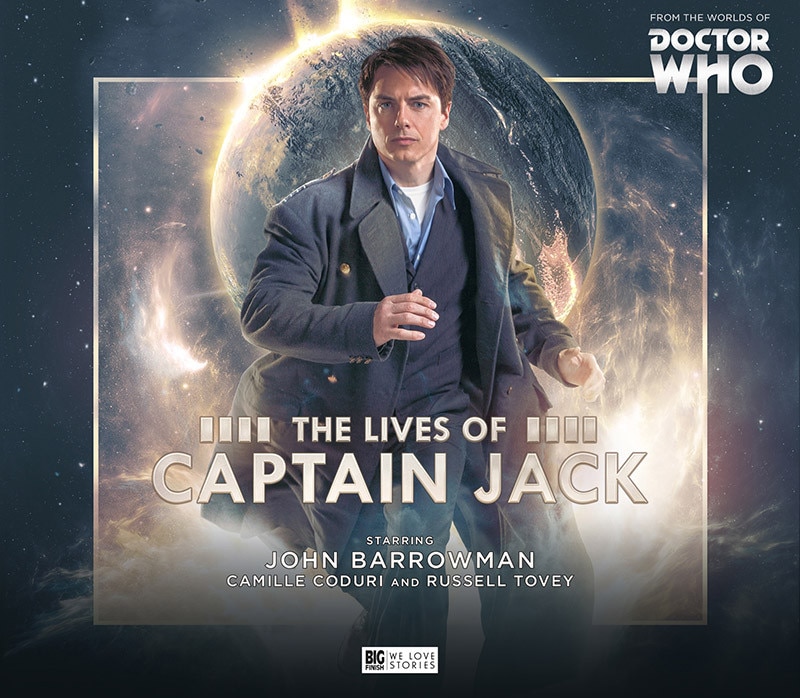 Producer and writer James Goss commented:
"We love John. He understands Captain Jack like no-one else, and easily provided the various versions of him – having just spent three days playing Torchwood Jack, he suddenly delivered preppy Time Agent Jack, Satellite 5 Jack, End of Time Jack, and effortlessly locked horns with Jackie Tyler. Watching him together in the studio with Camille was genuinely one of the happiest days of my life. We were so lucky to get John, and can't wait to get him back."
The Lives of Captain Jack is released in June 2017 and is available to pre-order from www.bigfinish.com