The Power of the Daleks to hit cinemas in US
By Cameron K McEwan on | Permalink
BBC America and Fathom Events present The Power of the Daleks animated series in cinemas nationwide for one night only on November 14, 2016.
Featuring Patrick Troughton's debut as The Second Doctor, this special event is in advance of BBC America's premiere on November 19.
BBC America and Fathom Events announced today a one-night special theatrical screening event of The Power of the Daleks animated series on Monday, November 14, 2016 at 7pm (local time) in advance of the premiere on BBC America on Saturday, November 19, 2016 at 8:25pm ET.

The cinema event will also feature exclusive bonus content including interviews with members of the original cast.
Tickets for Doctor Who: The Power of the Daleks in cinemas can be purchased online beginning Friday, October 14, 2016 at 10am ET by visiting www.FathomEvents.com, or at participating theater box offices.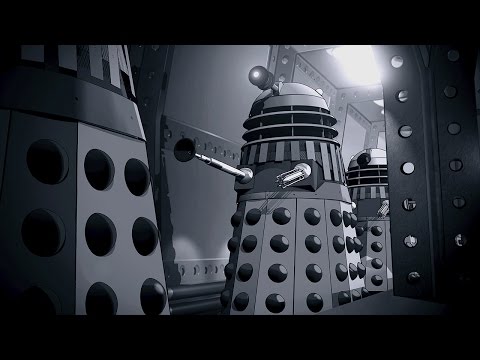 Fans throughout the U.S. will be able to enjoy the event in select movie theaters through Fathom's Digital Broadcast Network. For a complete list of theater locations visit the Fathom Events website (theaters and participants are subject to change).
Fathom Events Vice President of Programming Kymberli Frueh said:
"The Whovians are always one of our biggest and most passionate group of fans at the cinemas."
The Power of the Daleks debuts on the BBC Store on Nov 5, 2016